Voorhees, New Jersey – The children of Naudain Academy have been enjoying the Young Masters Little Wisdom Discovery Program every other week since November. Their mission has been to learn and practice the Secrets of The Heart based on the Young Masters Little Wisdom books. This past week they learned about the final secret in the first series – love.
The program began with the class saying the Young Masters Pledge together. "I promise to use my gifts everyday, in everyway, for I am a Young Master. PEACE!" "By now the children have learned they do indeed have gifts to share with the world, " said Ms. Stephanie, "and that's why they're Young Masters."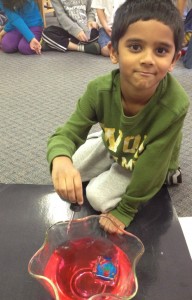 After the pledge, the children listened to Ms. Stephanie, the program facilitator as she read Young Masters: This Little Light. "In this storybook, the children learn the many ways love is shared with people, animals and the earth." The story was followed by an activity to demonstrate the power of love. The activity is called A DROP OF LOVE. In a glass bowl filled with water, Ms. Stephanie placed a small earth globe. One at a time, each child took a turn and using an eye dropper filled with colored water placed a drop of love around the globe. As they shared something they love about themselves, others or the world around them they all saw how the love they had to give helped color the world with love. "One drop of love makes a difference in the world," said Ms. Stephanie. Each child had a turn as ideas like "I love my family and friends, I love my teachers, I love my dog, I love flowers and I love music," were expressed.
After completing the activity the children created "heartprints", this was an art project to share with someone they love. As they listened to music from the Young Masters: This Little Light CD, each child decorated four "heartprints" and added their own very special thumbprint to make the shape of a heart. As they placed their thumbprints on the hearts Ms. Stephanie told them "there is no one in the whole world that has a thumbprint like you and there's no one in the world exactly like you. You are unique! And the way you give your love is unique." On the reverse side of the "heartprint" children wrote messages like "I love you" or "I love playing with you." Some children wrote words like "kindness" and "share." The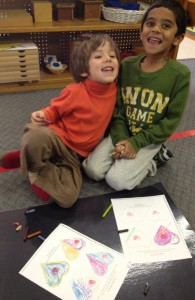 children were asked to share their love by giving a "heartprint" away to a classmate, family member, teacher or neighbor. "Sharing love is making someone else feel special," said Ms. Stephanie, "that's how you shine your light. That's what Butaan, Phylos and EEtha talk about in the book." "I love hearing the children sing along with the CD while they're creating," said Ms. Stephanie. "Music adds so much to a learning experience…music makes learning joyful."
As their time together came all too quickly to an end, the students repeated the Young Masters pledge one last time and were encouraged to try making heartprints out of clay at home to share with friends or family members.
"Young Masters…learning to make the world a better place. I love my work," said Ms. Stephanie. Stay tuned for the next adventure in learning with the Young Masters Little Wisdom Discovery program.
If you're interested in finding out more about how you can use this program in your school.
Stephanie Pelly is a peace educator and co-creator of the Young Masters Little Wisdom Discovery Program for children and teaches this program and others in and around New Jersey.
Click here to make a difference in the lives of children 4-8 in your world.
Curriculum is still available for free.
Naudain Academy is a Montessori school in Voorhees, New Jersey.