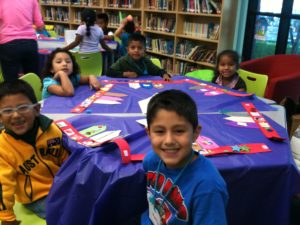 MatERIALS:  Safety scissors, a roll of corrugated display border or craft foam cut to at least 21 inches wide. (Cut foam to about 2" x 21")  Choose some bright colors.  Self-adhesive Velcro squares or a roll of Velcro (self adhesive hook and loop tape), one bottle cap for each headdress, one small picture of the child to place inside, small double stick squares (to attach bottle cap to headband).  Hat plumes – from one  8.5 x 11 foam sheet, your color choice to cut each sheet into five strips. 8.5 long pieces, you'll use three per headdress. Mix and match colors.  Self stick letters for child's initials.  Optional decorations:  self stick foamies in different shapes, small sea shells, seeds, small sticks or things from nature, or pictures of things you are thankful for!
We suggest you precut all materials, craft foam, or corrugated paper. Depending on the age of the children.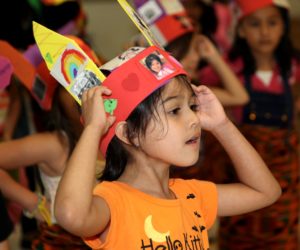 Day One
Hand out precut head band and have children write their names on one side of the band.
Lay the headband flat on a table in front of you with your name side up.
Separate the 1 inch square of Velcro, peel away the paper and stick it one inch away from the left side of the headband
Flip the headband over and place the other side one inch from the right.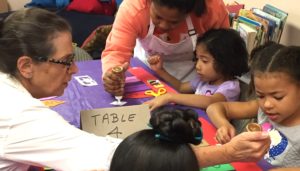 Pick three plume colors you love from the foam sheets you have cut. Now use your scissors to cut designs at the top, make them pointed by cutting a straight line at an angle, or cut a wavy line or a jagged line.
Place your head band flat on the table so the inside is facing you.  Now find the middle of your headband by folding it in half, now glue your first plume in the middle  them to the inside of your headband.  On the same side as your name is written. Put about a "dime" sized circle of glue to hold it well.  Now glue on your other plumes one either side about an inch or so from your center plume.   You must let your headband dry overnight and continue your next available day.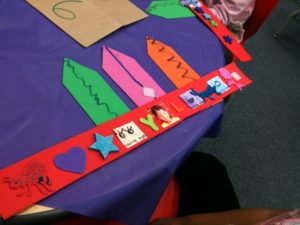 Day Two
Place your headband on the table so your name is facing down.
Take a small double stick square and peel the paper off of one side, place in on the center of the outside of a bottle cap, the opposite of the deep side that goes on the bottle.
Now peel the paper off the other side and stick it on the center of your band underneath your middle plume.
Add your initials, the first letter of your first name and the last letter of your last name, on either side of your bottle cap.  Or you can write them if you don't have stickies.
Decorate your headdress with anything you'd like.  Let it dry over night.
Wear your special headdress for reading or thinking time!
You are a YOUNG MASTER!