$16.95
Product Overview:
Written and composed award-winning Author, Grammy® Award-winner Bunny Hull and Illustrator Kye Fleming.
For ages 4-8
Hardcover Story Book with CD
Description
In Heart Of A Lion Phylos faces his fears as our Young Masters discover courage.  What is courage? How do you get it?  Where does it come from? How do you use it?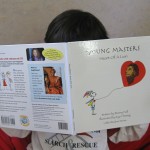 This hardcover book from the award-winning Young Masters Little Wisdom® series, includes a CD with an audio story narrated by Elayn J. Taylor and songs by Grammy Award-winner Bunny Hull:  
Here We Go,
Roar Like A Lion
, 
The Heart Is Very Smart, I Am Courage, Hey Young Master, What Can I Learn Today, Thank You For Being Here and Asanti Ku Kuwa Hapa
.  Also included are multimedia files for most computers and mobile devices. There is curriculum available for this book.  
Click here
. A CD with music and audio story are included with this book, but if you wish to listen to clips or purchase the music and story without the book, visit iTunes by going to this link.
Young Masters Little Wisdom: Heart Of A Lion
Download Heart Of A Lion Song Lyrics (PDF)