Hollywood, California – It was a joyful day as eighty plus Young Masters at Selma Elementary recently showed what they learned and graduated from Dream A World Education Inc.'s six-week Secrets of the Heart residency program for kindergarten and first grade.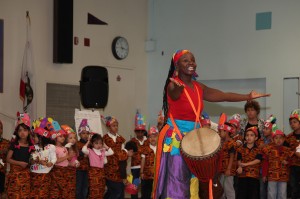 This very effective program utilizes the arts to teach kindergarten students about friendship and a smile through the art of music and songwriting, kindness through the art of dance, imagination through theatre arts and storytelling and gratitude through the visual arts. The program, designed by Bunny Hull, Dream A World founder and Executive Director of Dream A World Education, Inc., has been recently modified in order to continue the Secrets of the Heart theme through to the end of the school year. Principal, Dr. Michelle Windmueller says, "The program brought something so special to Selma. It fundamentally changed the way the children saw themselves. We expect to have this program here for years to come."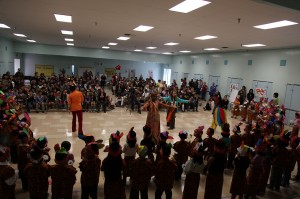 Dream A World Education's working team of artists include actress Elayn J. Taylor, flutist and actress Diane Hsu, Kenyan born drummer and vocalist Anindo Marshall and Grammy award winning songwriter and singer, Bunny Hull.
Funding for Secrets of the Heart is provided by outside resources, corporate sponsorships, foundations and by individual donors who see the value and benefit it provides for children in their most formative years..
Secrets of the Heart is currently at Gardner Elementary in Hollywood and will then go to Cabrillo Elementary in January of 2012.