In Dream A World's exclusive "Behind The Scenes" find out how award-winning illustrator and author – Todd Parr has made his dreams come true.
1. Did you write stories when you were growing up? At school or as a hobby?
No, but I loved to draw. I was always drawing or doing something creative.
2. When you were a child did you ever think you were going to be a writer when you grew up?
Never, but I did dream of being an artist.
3. If you didn't write as a child, then when did you start writing and what inspired you to start?
I started adding messages to my art in 1989, which eventually lead me to writing children's books.
4. How do you choose the topics for your books? What's your age range?
I always try and pick topics that help kids feel good about themselves while learning about difference in everyone. I also like to tackle some of the challenges that kids are faced with – like being afraid. The age range is 3-6, 4-8 and adult.
5. What kinds of things inspire you to write?
Being able to make a difference in the world, in a bright, silly, fun way.
6. Where do you get your ideas?
A lot come from my childhood.
7. What gave you the idea for your very first book?
A Piece of my original art, "Be Who You Are."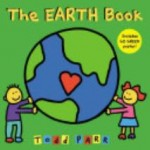 8. Have any of your books earned special recognition?
Yes, my most recent book "The Earth Book" won the 2011 Green Earth Book Award as well as the Parents Choice Award. (Click here to see The Earth Book)
9. Have any of your stories been inspired by real people or events?
Yes, me.
10. Do you enjoy researching or do you prefer working totally from your imagination?
My imagination only.
11. Do you work on more than one book at a time?
Yes, sometimes I get excited about two or three ideas and start them all at once.
12. Which of your books did you most enjoy writing?
It's Okay To Be Different and Underwear Do's And Don'ts.
13. What are you working on now? When do you expect to start submitting it
to publishers?
I am working on a new book for 2012. The book is about all things kids have to be thankful for. My publisher already has this one and has given a first round of comments.
14. Do you write every day and do you have set hours that you work? Where do you write?
No, I don't set schedules for myself. I create when I feel like it (Unless there is an urgent need) I work in a remodeled garage I converted to my studio.
15. Do you do school visits, if so what question do children ask you most?
Yes, lots — the questions I get asked most are "Where is your dog Bully?" and Why don't I put noses on the people in my books."
16. Has anyone ever written you a fan letter that you'd like to share?
Yes, lots – Here is a recent favorite.
"Todd — I'm sure you hear this a lot, from parents all over the world, but thank you for your wonderful books. My son is almost five and his father and I have been separated/divorced since he was two. We have a very amicable relationship and live near each other and my son sees his dad several times a week — yet, recently, all of a sudden, my son is grappling a lot with how his family is *different* from other families and wondering why his mom and dad don't live together. We already had The Mommy and The Daddy Books — so I popped out today and got The Family Book. Just reading it made me cry — it touches on everything I think he is thinking and feeling right now — I think it's really going to make him feel good. Thank you so much for your wonderful books. They mean a lot to so many of us!!
Lillian"
17. Is there anything about yourself that you'd like to share – hobbies, where you were born, special talents other than writing/illustrating.
I like to cook, camp, ski and anything at the beach. I was born in Rock Springs, Wyoming. I lived in Chicago and Honolulu before settling in the Bay area. The one other talent that comes to mind is a make I make the BEST macaroni and cheese.
THE END
Love,
TODD
Click here to check out The Peace Book and find other Todd Parr favorites recommended by Dream A World.