"If you can dream it, you can do it." – Walt Disney
In our Secrets of the Heart educational program we facilitate a family arts project –  the making of vision boards or dream boards with children, parents and families.
What are your dreams?  Are they to travel, to achieve something, buy a new home…whatever they are create an image of them on your poster board with words, pictures or drawings…make it yours. INVOLVE THE WHOLE FAMILY. DO IT TOGETHER!
ADD A QUALITY YOU'VE LEARNED FROM ONE OF OUR BOOKS THAT WILL HELP YOUR DREAMS COME TRUE!  Friendship – Imagination – Courage!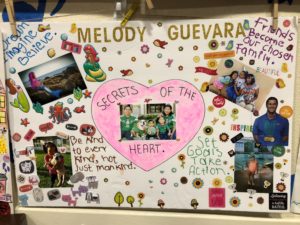 The purpose is to not only focus on stuff and what you want to accomplish but to acknowledge how you want to feel. (ie: joyful, healthy, loving, powerful, abundant, fearless, strong, financially free)
Vision boards capture your personal dreams or long-term goals and aim to visualize an upcoming year (or school year), decade or your lifetime.
Olympic athletes have been using visualization on a regular basis for years.  They were more successful however when they imagined themselves training rather than winning, which underlines the importance of process or taking action, rather than simply dreaming of a future state or accomplishment.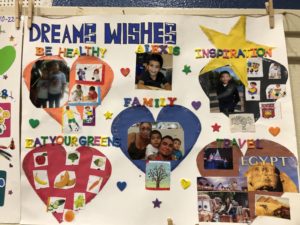 "Anything the human mind can believe, the human mind can achieve." Napolean Hill.
Here are some ideas on which you can build your vision board:
Self – fitness & food, activities, vacation or travel, relaxation
Social – Family & Friends – relationships, community
Feeling is the key – How do you feel about what you are deciding to experience? Create some affirmations about your vision?
A new house (peace, happiness)
Money (not just dollars, but how you will use that money…for what good, how will you share it with others)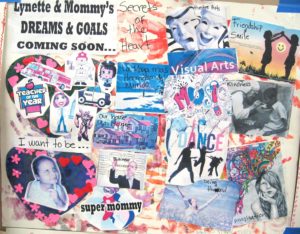 HANG YOUR VISION BOARD WHERE YOU WILL SEE IT EVERYDAY.  TAKE A MOMENT TO REFLECT ON IT AND START YOUR DAY WITH AN AFFIRMATION.
"I am someone whose dreams come true. I know what to do and how to do it."
"I am where I need to be, when I need to be there." 
Acknowledge when any of your dreams have come true. Express your gratitude.