Charlotte Sherman has brought an understanding of the arts to hundreds of thousands of children and adults. She is a mother, grandmother, artist, art curator and director of the Heritage Gallery representing the art of Charles White, David Alfaro Siqueiros, William Gropper and many others.


Charlotte has spent a life in the arts and on the trails of the Santa Monica Mountains learning how to lead the conscious life. Here is a taste of her collected wisdom as she sheds her light and her thoughts on what it takes to raise a conscious child.
THE CONSCIOUS LIFE
It is the child that brings to us knowledge of what it is to see, believe and embrace. As a parent and an art teacher, I have learned so much about life and creativity. I find that what is often sought is to open our non-judgmental view of life.
Children are born with the ability to know and use each moment. From birth on the baby knows how to grasp the light, know the delight of the movement of shadows, the sound of music or the poetry heard from the parent. Miro, the French artist is quoted as saying, "It takes an entire life to come back to that childlike vision." We do have the choice of seeing each sunrise as the first one and to rejoice in it. The flowers and trees have a voice to speak with us. Animals have the ability to share their intuitive wisdom, to teach us the glory of each moment.
In learning with our children the magic of art, I have found that the creative impulse is there for all. What we seek is the open accepting of the ambience to let it flow. There are no set parameters.
We as parents and teachers have the opportunity to open the doors of perception for the growing minds to books, poetry, art and music. It is from this early period in their lives that the wonder of creativity will move them through their entire lives.
Life presents us with great gifts. These gifts of life only need be acknowledged and shared. Each of us has the wisdom with open hearts to give this wonder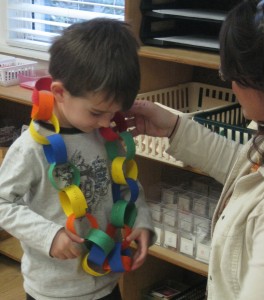 to children or even accept it from them with great joy. And in giving, also we receive it. We are surrounded with beauty, richness and lightness that exist for all.
Great truths are there, we only need to accept them. These truths are manifested in all that is about us. The sun, the moon and the stars share their light as well as each blossom, blade of grass and drop of water, gives out its essence. We have the choice to live in the eternal presence.
The simplicity of the truth may walk by our side, all of our lives, if we choose to acknowledge it.
In the words of the Persian poet, Jalal-uddin Rumi, "Sell your cleverness and buy bewilderment. Cleverness is mere opinion, bewilderment is in intuition."
This awe of life, can release us from the burdens that are so frequently borne. It may mean only stepping out of ourselves for the split second. There are so many men and women who are there to show us the vision. This wisdom has always been available to grasp. Meister Eckhart, in simple terms, "Up then, noble soul! Put on thy jumping shoes which are intellect and love and overleap the worship of thy mental powers, overleap thine understanding and spring into the heart of God, into his hiddenness where thou are hidden from all creatures.
This presence has the ability to spread love, compassion, caring and healing. It so simple, as in the best of life, that "which cannot be bought or sold", but always shared. If we live with this spirit, we need only reach out with our hearts, our children will know.
About Charlotte Sherman:
Mother, artist, teacher, museum curator and gallery director for Heritage Gallery. The Heritage Gallery represents African American artists such as Charles White,Margaret Burroughs, James McMillan, Ernie Barnes, and William Pajaud; Social Realist artists such as William Gropper; Latin American, Hispanic, and Mexican American artists such as Carlos Almaraz and David Alfaro Siqueiros; Californian artists such asMichael Shankman, and additional Modern and Contemporary artists from around the world, to name just a few.
Charlotte has lived and is working in Los Angeles since quite early in the 20th century. She speaks as a parent, having shared much of the beauty of art, music, poetry and philosophy with three children who are very creative – two are novelists and one a musician.
"Life is good and we share and give love."
Visit Charlotte's Heritage Gallery by clicking here.