Dream A World Education, Inc., a non-profit and educational outreach of Dream A World begins work in two Los Angeles inner city schools next week – Selma Elementary and Gardner Elementary. The Secrets Of The Heart residency program is an "arts based socialization program" says Dr. Margaret Martin, founder of Harmony Project in Los Angeles. "Our program uses multi-disciplinary arts: music, dance, theater arts and visual arts to teach kindergarten children that they're born with gifts they can learn to use" says Dream A World's founder and Executive Director, Bunny Hull. The program pairs each art form with a complimentary value: friendship, kindness, imagination and gratitude.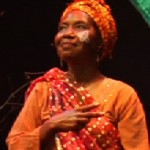 "I promise to use my gifts everyday, in every way – for I am a Young Master." This is the pledge that rings from the opening performance of each residency, through to the beginning and end of each workshop as children learn they are Young Masters. Why? Because they are all born with special gifts. In six weeks, they will begin to learn what those gifts are and how they can use them.
Grammy award winning songwriter, Hull uses music and songwriting to the teach children about friendship, as they learn the elements of a song and how it's constructed. They create their own class song about friendship. "They learn vocabulary, they learn about the ukulele, the elements of song, rhythm and they learn language arts. It's well constructed, very rich curriculum," says Hull.
Anindo Marshall, who is from Kenya, teaches the children about kindness through dance and body movement. They learn where Africa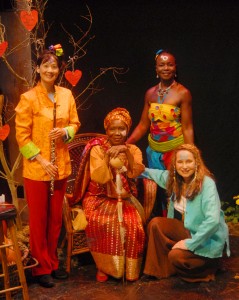 is, a Liberian folk song and dance about welcome and the importance of showing kindness to people around them. Marshall a well-known vocalist and drummer from Kenya to Los Angeles heads an all women group called Adaawe and currently teaches at Debbie Allen Dance Academy in Los Angeles.
Award-winning actress Elayn J. Taylor teaches imagination through her workshops in theatre arts and storytelling as the children learn to step into a Diego Rivera painting and observe their surroundings, feel, smell, touch, listen and then learn that they each have their own story to tell.
Finally, actress Diane Hsu, former flutist with the Seattle Philharmonic, leads the workshop in visual arts and music as the children learn about hats and head dresses from around the world and then create their own Young Master headdresses decorated with things for which they are grateful. They learn line, color and design, and experience Hsu's expertise on the flute, as rhythms and music are cleverly woven into the visual arts lessons.
There is a professional development component offered to teachers prior to the residency to familiarize them with elements of the program, leaving them with activities and resources they can use. "This time around we have added a parent workshop the week before the residency begins," said Hull. "I wanted to give the parents an opportunity to participate in what their children are learning, to develop a process of communication throughout. So we've added an orientation and arts component where parents will work with their children at home to create a vision board during the six week residency." There are tools offered and ideas for how parents can talk with their children about the secrets of the heart, what questions they might ask to enrich their child's experience.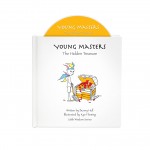 Dream A World's music and books are used as classroom resources and part of the curriculum during the course of the residency. Teacher cooperation is vital to the success of this program and the books are used for classroom discussion as children chronicle their own progress in a journal each child receives.
"Who can't use a little reminding that to achieve our dreams we must all use the secrets of the heart? The importance of friendship and a smile, kindness, imagination and gratitude is something we all need to remember."
In six weeks this program makes a profound difference in the lives of these kindergarten students, teachers and parents. It only takes one experience to touch a child's life in a way they never forget. This program offers that experience. Because of cuts in arts funding, this program is now totally dependent on funding from outside sources. To find out more about Dream A World Education, Inc. and Secrets of the Heart visit: www.dreamaworldedu.org.