Donna: Thank you so much for the opportunity to interview with you. We both just love your website. You offer such a refreshing and inspiring view of the world.
1. Did you write stories when you were growing up? at school? Or at home. As a hobby? As a young child, or as a teenager, or both?
Donna: I did write as a child. I began when I was still in elementary school copying my favorite poems and story passages into a spiral notebook that I took everywhere. And I committed these passages to memory. Even today, 40 years later, these memorized passages spring to mind at unexpected moments. In middle school, I moved from copying and memorizing, to mimicking in my own writing what I liked in the writing of others. I didn't know it at the time, but I was doing what all writers do – I was journaling. I began making my own observations about people or places or events that moved me, and I wrote about them, learning to use words to evoke feelings in others. To this day I journal. Sometimes it is random thoughts. Sometimes I journal to respond to a moving homily I hear at church, or to an article I read in the newspaper, a beautiful sunset, or any other topic that moves me.
Rosemarie: I was an ardent fan of Lois Lane and Brenda Starr. I wanted nothing more than to be a newspaper reporter! My
friend and I used to make up stories to write. I was paid for an anecdote published in Readers Digest when I was 12 years old and thought I had made the big time. I submitted two more anecdotes and never heard back, so I stopped submitting. While I was in Nursing School I wrote the majority of our yearbook, putting a short, descriptive poem under each picture and a narrative synopsis of our three years at school. Then as a new mom, I amused myself by writing humorous poems about things I didn't like to do or if I had a cold–ie. An Ode to Dirty Dishes
and A Code in da Node.
2. When you were a child did you ever have moments when you decided that you were going to be a writer when you grew up?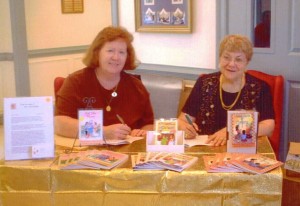 Donna: I can't say there was a single moment when it occurred to me that I could be a writer. I know that by the time I was in high school I was writing plays and stories and poems, and I hoped to go to college to learn to
write. It was an evolving dream of mine. More a passion. First was the need to write. It was later, after college, that the desire was born to have my writing read by a wider audience than my family and friends – hence the journey into the world of publishing.
3. How do you choose the topics for your books? What's your age range?
Rosemarie: The topics for our books were chosen because we both had a need to say what we felt. Our first book, Little Acts of Grace, was written for preschool children as a result of our desire to afford children of today the comfort of knowing, believing in and praising God. Donna wanted to share her thoughts about Mary, the mother of Jesus. So we wrote Just Like Mary, also for very young children. Our third book, The Mass Book, was a suggestion from the publisher and targeted second graders.
Donna: When Rosemarie and I began writing together, our grandchildren were in preschool. Our books have grown up with our grandkids. As for how we choose what to write, sometimes I think our topics choose us. Rosemarie and I are co authors, but our third partner is God. We truly feel our topics are inspired by Him.
4. What kinds of things inspire you to write?
Rosemarie: Love inspires me to write. I write about people I love, people who love, and the places and memories I love. I am inspired by the joys and sorrows of everyday life.
5. What gave you the idea for your very first book?
Rosemarie: Donna and I met by accident–or Divine intervention– at a church dinner. We had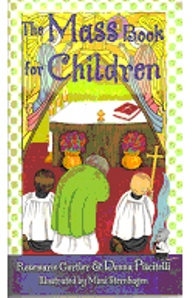 each been on a Pilgrimage, compared notes and soon found that we had very similar thoughts and a desire to write from the heart. We talked about little things we did as children. In spite of the difference in our ages, our memories, beliefs and feelings were so very similar. So, we wrote about how little actions displaying love for God would please Him just as little acts of love and kindness please people. And–we went on from there to create a series of books for children.
6. Have any of your books earned special recognition?
Donna: Our 4th book, Living the 10 Commandments for Children, won 2nd place in the children's category for the 2008 North American Catholic Press Association. That was a real thrill for us.
Rosemarie: This same book has also been printed in Lithuanian at the request of a priest who enjoyed it while in America!
7. Have any of your stories been inspired by real people or events? What inspires you to write?
Rosemarie: Most everything I write is inspired by real people or shared life experiences. I notice that in Donna's work also. Her love and compassion shines through her words. The book she is self publishing at this time emphasizes pre teens respecting and caring about others —social justice. Icky, CeCe and the Mysterious Mr. Thuan is due to be released at the end of November.
8. Do you work on more than one book at a time?
Donna: I think this is sometimes one of our strengths, and a potential pitfall. While Rosemarie is a focused writer, I tend to work on more than one topic at a time. As a result, I am slower in brining any one project to fruition. I tend to write in response to an inner calling. Rosemarie is the disciplined one.
Rosemarie: Donna and I get a chuckle out of the fact that our Myers-Briggs Type Indicator results are on target. I seek closure on each project before beginning another. Donna is comfortable beginning several projects. I believe we complement each other with these opposite characteristics. I speed her up on each project and she slows me down to make sure our words are what we really want to say.
9. Which of your books did you most enjoy writing?
Rosemarie: It's a tossup between The Beatitudes for Children and The 10 Commandments for Children. I learned a lot as we wrote about current life in relation to God's teachings. My favorite adult piece was the story of the unexpected death of my granddaughter on the day my son came home from the Gulf war. That writing was therapeutic and helped me resolve her death. It took 2 years to write.
Donna: For me, my favorite book it is definitely Just Like Mary. Written for preschool aged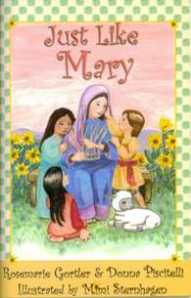 children, this book helped me answer a question from when I was a little girl. I was always told that Mary, the mother of God, is to be my role model. I couldn't understand how to do that. But writing this book helped me answer how we all can be just like Mary.
10. What are you working on now?Donna: We have a couple of projects we are working on. We have two children's books: one on Purgatory, and one on Priests. I am working on a series of middle grade novels. And we are experimenting with developing one of our books as an animated book for an ipad.
11. Are you signed exclusively with a publisher? Are you self published and how does that work for you?
Donna: We have not signed exclusively with any one publisher, but to date, all of our children's books have been published by Our Sunday Visitor. That has been a wonderful relationship we hope will continue. I am also currently working on self publishing my middle grade novels. I am working on a series of 4 middle grade novels, each one which addresses a different issue related to social justice: homelessness, the plight of the refugee, etc. These books will appeal to that segment of our population who embraces conservative values. As you know, this is a small, niche market. So I have ventured into the realm of self publishing. I am working with an editor who has some experience in this area and feel confident this is a plausible way to go. With the help of social networking, Amazon and e-bay, marketing the books has become, while not easy, certainly possible.
12. Do you do school visits, if so what question do children ask you most?
Rosemarie: I love doing school visits! Last year I read to a pre-school in Northern Virginia and had a wonderful time with 4 year olds. Last week, I read snippets from Little Acts of Grace 2 to the Kindergarten and 1st grade classes. They were a great audience, wanting to participate as well as listen. I also read A Really Scary Time to 3rd and 4th graders. We sang the World War ll songs from the book. Donna and I have had opportunities to speak to children and their parents at PTO meetings in the public school and at a Military base. We both enjoy talking to adults and to children.
Donna Piscitelli lives in Alexandria, Virginia, with her husband Steve. They have four children and ten grandchildren. Donna has been writing and publishing children's books for ten years, and is currently working on publishing her first middle grade novel. She has worked in the field of education for 32 years and has been a teacher, a counselor and an adminstrator. Donna and Steve are both active in their church.




Rosemarie Gortler lives in Fredericksburg, Virginia, with her husband Fred. They have five children and seventeen grandchildren. Rosemarie has been a nurse and a clinical counselor. She and Fred are active in their church.

Your may find Piscitelli and Gortier's books on Amazon by clicking here.