How do children really learn what it means to have an imagination?
Moorsetown, New Jersey – Stephanie Pelly introduced Montessori students to their "Magic Eye" this past week. Children naturally use their "magic eye", their imagination, but do they really understand the value of this important gift that's always available to them? The Young Masters Little Wisdom Discovery Program works to connect children with concepts like imagination.
Stephanie Pelly, co-creator of this curriculum, is facilitating the Discovery program at Montessori Children's House where this week she focused on empowering children to use their own imagination in a variety of ways. The children start with the Young Masters Pledge, then read and listen to the the story from Young Masters: The Magic Eye. Next they are guided through several right brain activities as they creatively express themselves, verbalizing all that they're seeing in their mind's eye.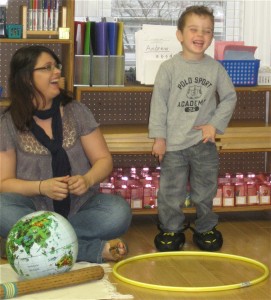 They practice being storytellers as they examine pictures of different people from magazine cut-outs. They use "The Magic Circle", a hula hoop, to pretend they're fishing, eating a bowl of ice cream or building a sand castle. One boy even sees a train moving around in circles on a track. They sit inside "The Magic Circle" and pretend they're somewhere else. One child is in a big city naming all the vehicles he sees, one sits at home petting her dog. One little boy even sits on the Easter Bunny's lap. What does the Bunny look like, what color is he or she? What fun!
The song Circle Of Creation, from "The Magic Eye" CD is played as they pass the "earth ball." When they song lyric says "tell me what you see," the children name different animals they see on the globe.
Stephanie then makes the connection as she explains to the children that they can use their imagination any time. It's always available to them, whether they're laying in bed and feel afraid of the dark or feel bored and are looking for a way to entertain themselves. They can use their imagination to decide what color socks to wear in the morning or to solve a problem…and they can exercise their imaginations by playing these games with another friend or by themselves. A powerful concept that can later translate into children understanding how their imagination can be used to create their future.
Connecting children to the gifts that come natural to them are what the Discovery Program is all about. Helping them discover who they are and what makes them unique. Encouraging them as their individual characteristics and personalities emerge. This is the gift that teachers like Stephanie Pelly give to children.
Click on the links below to view videos from the Young Masters Little Wisdom Discovery Program from Unit 2 of
The Magic Eye
Young Masters: Circle of Creation
Young Masters: The Magic Eye – Learning How You Make A Difference
Stay tuned for the next unit – Young Masters: The Hidden Treasure as the children at Montessori Children's House discover gratitude and why it's so important to be thankful.
The Young Masters Little Wisdom Discovery Curriculum for Montessori and other versions of this curriculum are available right now for free. Click below to take advantage of this offer so you can share this gift to the children in your life.
Young Masters Little Wisdom Curriculum