Moorsetown, New Jersey – The fifth unit from the Young Masters Little Wisdom Discovery Curriculum continued for an enthusiastic group of students at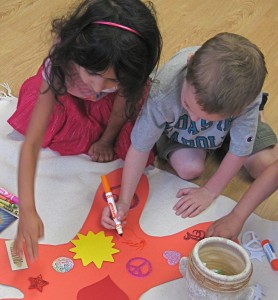 Montessori Children's house this week. As always the lesson begins with the YOUNG MASTERS PLEDGE. The only difference today is that three children lead the pledge, adding a few extra turns to liven things up. "Great job!" said Stephanie Pelly, who is co-creator of the curriculum. As the day began they reviewed what they had learned over the past four weeks. "Who can remember the secrets of the heart?" Miss Stephanie asked. "Friendship," said one boy. "Imagination," said another,"Gratitude," a little girl chimed in. "Courage," said one of the smallest boys. "That's my favorite," as he continued to confess he loved to wear his power badge.
This week children 3-6 learned they had an Invisible Power and then – then learned how to use it. "Did you know you had an Invisible Power," asked Miss Stephanie. "No, what's that?" one little girl asked. "You'll find out. Let's read the story," said Miss Stephanie.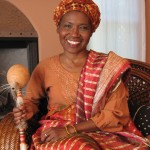 The children were introduced to Saphinne this week, the storyteller on the CD. In real life that's Elayn J. Taylor. "They really liked hearing her voice," said Miss Stephanie. By the end of the story they had learned the Invisible Power is CREATIVITY. Everything begins with an idea.
They talked about how all people are creative because everybody has ideas. Everyone has an Invisible Power. They discussed how people create artwork like Kye Fleming, the illustrator for the Little Wisdom books. They looked at what went into creating a painting Miss Stephanie brought to class. They found out how an author uses the gift of creativity when he or she writes a book and how a singer or a songwriter uses their creative gifts to share their own music. They learned, though, that CREATIVITY in many different forms.
CREATIVITY is the power you can use to create anything you can think of! They talked about famous creators like Alexander Graham Bell, who invented the telephone and Thomas Edison, who created the lightbulb. "What about Walt Disney as a famous creator," said Miss Stephanie as she showed pictures of all of those brilliant creators. "Think of all he created and the people who worked for him created."
"Now it's your turn to use your creative power, said Miss Stephanie. With limited time for the lesson, the best choice was a group project. "We're going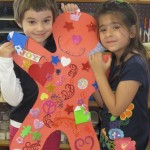 to practice using our Invisible Power together by creating something where everyone can take a turn adding something special." Miss Stephanie brought out her "Peaceable Being". "How can we make this special?" asked MissStephanie. They brought it to life together – drawing on it with markers, decorating it with stickers and adding paper cutouts. Music from the CD played in the background as they learned cooperation, how to work together, take turns and share materials. They learned what it meant to use their creativity and they were very proud of their creation.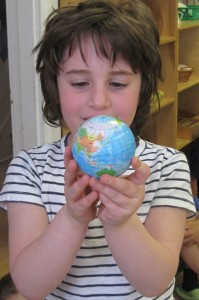 At the end of the lesson, they passed a small globe. As each child held it in their hands they said, "I am a creator. I use my gifts." The children are creating postcards this week either drawing themselves as a Young Master or making pictures of the Secrets of The Heart. What could be better than a group of children learning they're born with an invisible power and gifts they can use their whole life long .
Next week is the last unit of the Young Masters Little Wisdom Discovery Program, where they will learn about "This Little Light." The shines inside each of them – LOVE.
Here are a couple of videos which show the Discovery program in action.
Create Something Wonderful – The Young Masters Little Wisdom Discovery Program
What Can I Learn Today – Young Masters Little Wisdom Discovery Program
If you're interested in bringing the Young Masters Little Wisdom Discovery Program to your school. The curriculum is available right now at no cost to you, by clicking here.