Moorestown, New Jersey – Montessori Children's House continues the Young Masters Little Wisdom Discovery Curriculum after spring break as the children enter unit three to discover The Hidden Treasure – gratitude. As usual things kick off with the Young Master's pledge, "I promise to use my gifts everyday…." After reading The Hidden Treasure, children discuss all the different things our characters, Phylos and Butaan, are grateful for. The children are then directed to close their eyes for a few moments and think about what they are grateful for. Each child puts a little heart inside a pinata treasure chest as they claim the things or people for which they're grateful – family, friends, school, the beach, sunshine and trees. The list goes on as they explore what's important in each of their lives.
The children then learn about a very special gift. Each child is asked to lift the top and look inside a beautifully wrapped gift box to discover the greatest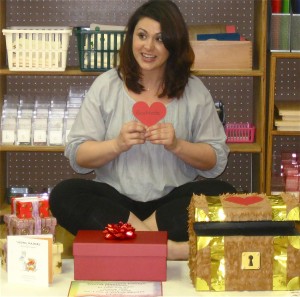 giftof all. What could it be? "It's not something that can be bought in a store," said class facilitator Stephanie Pelly. They are each asked to open the box and look inside. "Don't tell anyone what it is," Stephanie says, "wait for each person to have a turn." Each child opens the box and peeks inside only to see their own reflection in a mirror placed at the bottom of the box. A big smile appears each time a child realizes the greatest gift is – them. Beautiful, unique, special –
them
. Once everyone has a turn looking inside the box they place their hands on their hearts and say, I AM A GIFT, an affirmation of self-realization and acceptance of their own intrinsic value.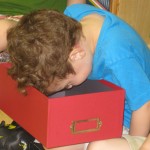 Next in the center of the circle a gift box is placed and Stephanie tells the children she's going to use her imagination and give each child a gift. They won't be able to see it but if they use their imagination they'll know what the gift was. Each child accepts a gift according to their own imagination. What fun!
The day's lesson ends by playing a game and singing the song, Circle of Appreciation. When the lyric says "point to the one you're thankful for," each child points to their friends and says "I'm thankful for you."
One child remarks, "I like the way each book ends with "thank you for being here." Another little boy confesses to his teacher "I love Tuesdays." When he was asked why he said "because Miss Stephanie comes on Tuesdays to share the YOUNG MASTERS program." These children are indeed thankful for Miss Stephanie. What are you thankful for? And what gifts are you accepting for yourself?
Stay tuned for next week when this Montessori class discovers a new secret of the heart – courage!
See video clips of the Young Masters Little Wisdom Discovery program:
Young Masters Little Wisdom Discovery Curriculum is available now for free. Find out more by
clicking here.