Moorsetown, New Jersey – The Young Masters Little Wisdom Discovery Program at Montessori Children's House wrapped up this week with the last book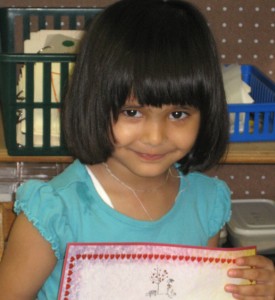 and lesson in the series. The children were now able to say the YOUNG MASTERS Pledge as a group. Several children took turns by themselves and one of the youngest little girls proudly showed Miss Stephanie she could do it all by herself. Promising to use their gifts everyday has become second nature. BravoYoung Masters! One of the children called out, "What's today's gift?" Miss Stephanie giggled to herself thinking how each week she pulled the SECRET OF THE HEART out of a ceramic gift box. "Oh you mean today's SECRET OF THE HEART? That's right that's your gift isn't it?" She reached in and pulled out the word LOVE. The children were getting the connection. The secrets of the heart were indeed the gifts they possessed.
"It's This Little Light," said Miss Stephanie, "Butaan, Phylos and EEtha are going to find out what it means to have This Little Light inside. "Did you know you had a little light inside? Well you do…everyone has a light to share." The gift of LOVE was the today's secret. Today's gift. And today, the children would learn how to share that gift with their family, friends, teachers, pets and even the earth.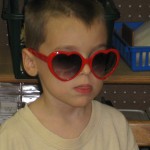 Since today was the last day Miss Stephanie wanted to honor each child in a special way. So one at a time, each child was asked to sit on a chair in front of their classmates. They were invited to wear special heart glasses if they wanted to. The children took turns saying three things they loved about their friend. The children expressed their kindness and compliments to each by saying things like, "I love when she plays outside with me!" "I like the way he makes me laugh." "I like your hair" or "I love his shirt!" One little boy sat in the chair for his turn and said, "Can my friends say five things they like about me?" "Well, who doesn't like hearing good things about themselves," Miss Stephanie thought laughing. "Why not?"
A special certificate was presented to each child for completing the discovery program. They are indeed YOUNG MASTERS, and though they know this class is over for now, they understand there are many more gifts to learn and much more to know about using their gifts. During the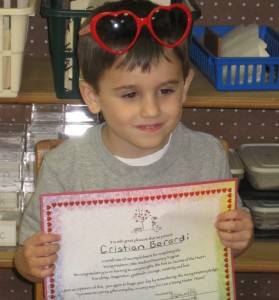 past six weeks their teachers have reported the children looked forward to Tuesday when Miss Stephanie was there to teach them about the Secrets of The Heart. They now had a good idea how to demonstrate what they'd learned about – friendship, imagination, gratitude, courage, creativity and love.
The class ended, as it began with each child putting their hand on the heart and saying, "I promise to use my gifts everyday, in every way for I AM A YOUNG MASTER!" Then they all shouted "PEACE"! In a final moment the children were asked to close their eyes and remember how thankful they were as the song, "Thank You For Being Here," was played. It was a good day for these Young Masters. A day filled with a sense of accomplishment and possibility.
Before Miss Stephanie left she noticed all the YOUNG MASTERS books and CDS were displayed in the classroom library. One child mentioned, he liked to sit down at the desk and listen to the books on the CD and look at the pictures of Buttan, Phylos and EEtha. It's now up to the wonderful teachers at Children's Montessori House to continue this very meaningful work along with their daily curriculum. Thank you to Denise Reid Sharp and Connie Campbell for recognizing the importance of this program and well done Young Masters!
If you'd like to see a music video of this program please view – Shine Your LIght
If you're interested in the Young Masters Little Wisdom Curriculum. It's available to teachers for a limited time for free. Find out more by clicking here.